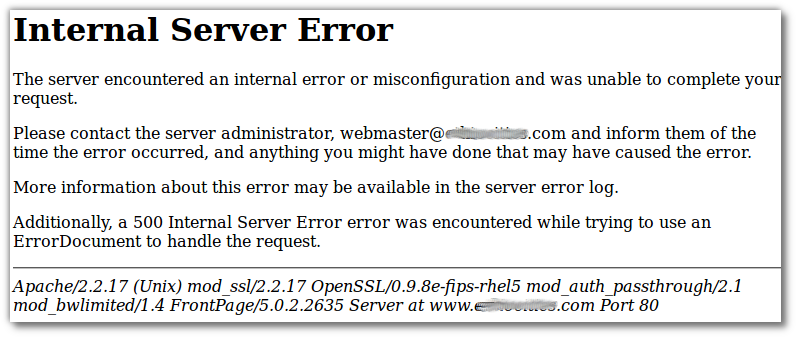 If you are getting the errors in apache logs like below in cPanel/WHM web hosting
Error:

Apache – SoftException in Application.cpp:388: GID of script "index.php"
[Mon Oct 02 08:29:33.684683 2017] [core:error] [pid 24787:tid 140323590199040] [client 91.73.173.118:50064] End of script output before headers: index.php
[Mon Oct 02 08:29:34.812915 2017] [:error] [pid 9068:tid 140323474810624] [client 91.73.173.118:50065] SoftException in Application.cpp:388: GID of script "/index.php" is smaller than min_gid
[Mon Oct 02 08:29:34.812981 2017] [core:error] [pid 9068:tid 140323474810624] [client 91.73.173.118:50065] End of script output before headers: index.php
[Mon Oct 02 08:29:34.817808 2017] [:error] [pid 9068:tid 140323474810624] [client 91.73.173.118:50065] SoftException in Application.cpp:388: GID of script "index.php" is smaller than min_gid
most probably the file user or group ownership has been changed of that file to root.
root@x.com [directory]# ls -lrt | grep "index.php"
total 48000

-rw-r--r-- 1 abc_user root         1782 Oct  2 07:10 index.php

Now change the ownership  back to current user is the fix
Solution:

Change the Ownership of file to the  'username' where public_html folder is present.

Like in /home/abc_user/public_html/ the user will be 'abc_user'
root@x.com [directory]# sudo chown abc_user:abc_user index.php

This is how you can fix above mentioned problem.
The above fix will also work for below mentioned error
Error :

Apache Mismatch between target GID (501) and GID (99) of file "index.php"
[Mon Oct 02 08:30:52.056769 2017] [core:error] [pid 24787:tid 140323474810624] [client 91.73.173.118:51627] End of script output before headers: index.php
[Mon Oct 02 08:30:52.062511 2017] [:error] [pid 24787:tid 140323474810624] [client 91.73.173.118:51627] SoftException in Application.cpp:456: Mismatch between target GID (501) and GID (99) of file "index.php"
[Mon Oct 02 08:30:52.062577 2017] [core:error] [pid 24787:tid 140323474810624] [client 91.73.173.118:51627] End of script output before headers: index.php
[Mon Oct 02 08:30:54.060966 2017] [:error] [pid 24729:tid 140323464320768] [client 154.122.107.180:33276] SoftException in Application.cpp:456: Mismatch between target GID (501) and GID (99) of file "index.php", referer: http://m.facebook.com/